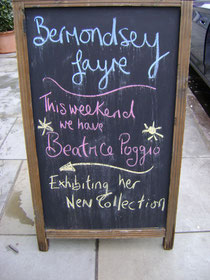 Liz Dillon is a very good friend of mine who owns an amazing shop in Bermondsey Street in London.
The shop is called Bermondsey Fayre and is full of creations made by friends of Liz or by local artists.
You can find vintage clothes, jewllery, soaps, incenses, children clothes, books, toys and much more.
Everything is MADE WITH LOVE in the shop and you can feel it as soon as you go in.
Liz organises yoga classes, meditation evenings, workshops and art exhibitions.
The space is vibrant and full of creativity.
Thank you Liz for giving me the opportunity to exhibit my artwork for the second time and thank you to everyone who came to the exhibition last week!